As more and more software vendors forego perpetual licensing offering only term licensing, at SOLIDWORKS, there is an understanding that the different licensing models service different customer needs.
SOLIDWORKS offers both perpetual and term licenses as standalone or network managed deployments.
Perpetual use licensing remains the most popular license option for SOLIDWORKS customer. The perpetual use allows customers perpetual use rights to the software, and the lowest total cost of ownership. And through the optional subscription service, the investment can be kept up to date.
Following the devastating impact of COVID-19 and the lockdowns introduced, SOLIDWORKS customers with perpetual licenses were able to still work with their licenses and deliver on projects, adding subscription service when they were in a better financial position to do so.
Term based licenses service customers with short term requirements. The upfront initial investment is lower, and this license model is well suited for a niche solution wish to add, or for shorter projects where you require additional licenses.
Speak to us info-ZA@cadmes.com about your requirements, and we can let you know what which licensing option is best suited for you.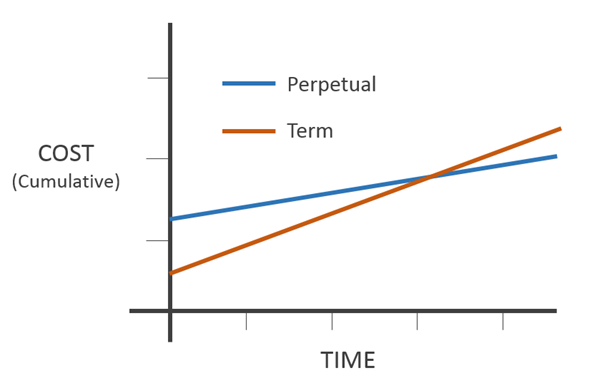 The total cost of ownership remains lower with Perpetual use licensing, whereas the initial investment with a Term license is lower.